As of March 17th - we are open from 9:00am until 6:00pm weekdays during tax time!
Please drop your documents in a sealed, labeled envelope at the front desk during our open hours. If you require an appointment, please phone to schedule.
Important!
MASKS ARE REQUIRED TO BE WORN IN THE OFFICE - notify us upon arrival if you have a medical exemption
PLEASE CALL ABOUT USING OUR PORTAL IF YOU CHOOSE TO NOT WEAR A MASK .
October 21, 2020
Thank you everyone for continuing to vote us the Best of the Okanagan for the 3rd consecutive year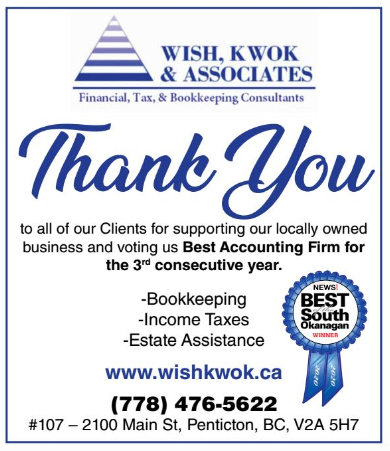 Also, a huge CONGRATULATIONS to all the other Winners, Silver, and Bronze winners. Here is a link to view all the winners in the publication -->

https://issuu.com/blackpress/docs/i20201021020009392/14
August 19, 2019
Thank you to all of our applicants - this position has now been filled.
We are adding a new team member!

Experience in Bookkeeping data entry
Experience with Excel and Word
Tax knowledge is a definite asset
Excellent customer service and telephone skills required– greeting clients with efficiency, friendliness and professionalism.
Maintaining confidentiality with client and company information
Ability to multi-task and attention to detail.
Greeting clients in person and via telephone
Set up client appointments for staff members
Collecting tax information that is provided by client and match with appropriate client file
Handing out completed tax returns, obtaining signatures and collecting payments
Helping with general responsibilities around the office
Filing and maintaining paperwork organization
Provide bookkeeping support/data entering
Maintaining a clean and organized office environment
We are looking to fill a full-time position for our growing Tax and Bookkeeping business.
The successful candidate will perform duties as front-desk receptionist and provide administrative/bookkeeping support.
QUALIFICATIONS:
RESPONSIBILITIES:

Include, but are not limited to;
These are key credentials in providing a positive client experience as well as maintaining organization and efficiency within the office and assigned tasks.
Wage is negotiable and based on qualifications and experience
Must be bondable
References a must
Job Type: Full-time